The Omega Speedmaster 145.022-76 That Took Me 15 Years To Find
The Omega Speedmaster 145.022-76 That Took Me 15 Years To Find A birth year Speedmaster by Robert-Jan Broer March 31, 2020 MIN READThe Omega Speedmaster 145.022-76 That Took Me 15 Years To Find
After many years, I've found my birth year Speedmaster 145.022-76. Having a watch from your year of birth is something to which many enthusiasts aspire.
In my opinion, the best thing is when your parents bought one in your birth year and looked after it for you. But I guess not everyone is so lucky (I wasn't). then you will need to find your own watch. This does mean that you can purchase the watch you really fancy, of course.
This article is about my own quest for a birth year watch. One that took me about 15 years to find the perfect piece.
Year of Birth 145.022-76
Ever since I have been bitten by the Speedmaster bug, it was my goal to find a reference from my year of birth (1977). Already in 2003, I started to search for a Speedmaster that was produced or sold in 1977, but except the Speedmaster LCD model (purchased one as well) or the occasional Mark IV, I simply couldn't find a Speedmaster Professional 'Moonwatch' from this year.
a 145.022-76. Yes, you read it correctly. That is indeed the right reference number for a 1977 Speedmaster.
There are shops that advertise with finding a watch from your year of birth. If you've been to the Burlington Arcade in London, you've probably seen the two windows packed with Rolex watches sorted by year. Searching online for a watch, in this case, a Speedmaster, is much easier of course. Especially with websites like Chrono24, it is easy to use the filters to select the production year of a watch.
Mistake
Back to the year 2003. In those days, there wasn't as much information on the Speedmaster out there as there is today. Chuck Maddox did an awesome job of documenting everything that had to do with the Speedmaster, and there was the Moonwatch, Saga and Time Capsule book on Speedmasters. That was about it. In 2005 it was fellow collector Jean-Michel from France who offered me a Speedmaster that he thought was from 1977.
I couldn't be happier, but after opening the case he found out it was a 145.022-76. Yes, you read it correctly. That is indeed the right reference number for a 1977, but little did we know at the time and I was searching for a Speedmaster Professional 145.022-77. A reference that doesn't even exist, as we know now. The Omega Museum & Archives were not as accessible as they are today, and my relationship with Omega was pretty non-existing at that time (not entirely true, as I had some contacts with the then Archivist).
Reference and Serial Number
It took a while to find out it was actually the Speedmaster 145.022-76 I was after. The problem though is that you need to know the serial number. This serial number was not engraved in the lug as it is today, but on the movement (also often referred to as movement number by Omega, not to confuse with caliber number). As you know, whenever you see a vintage Speedmaster for sale – and let me tell you it hurts a little bit to call a watch from my birthyear 'vintage' – the seller doesn't easily advertise with the serial number.
There are some charts and tables floating on the internet, where you can look up the production year based on the serial number, but these have been proven to be very inaccurate.
Another issue is, that when you do have the serial number, you need to be able to check it. Omega offers a very nice Extract of the Archives service, but it is quite time consuming for them to look up the information belonging to the watch, so you don't want to harass them all the time.
Meanwhile
Meanwhile, Omega started charging 120 Swiss Francs for this service, so it also isn't something you want to do until you find that Speedmaster from a specific production year. There are some charts and tables floating on the internet, where you can look up the production year based on the serial number, but these have been proven to be very inaccurate.
They are useful to have an estimate but to really find out if your watch is from a certain year, you need to check with the Omega archives. Or, purchase a watch that still comes with its original papers that are stamped or signed 1977 (or whatever year). Even this can be tricky, as you will find that there are quite a number of blank Omega papers for sale on eBay, that can be easily filled in by someone today.
Rolex
In the meantime, around 2008 or 2009, I gave up on the Speedmaster 145.022-76 from 1977 and purchased a Rolex Submariner Date reference 1680 from my birth year. Not entirely the same, but I thought I'd enjoy it as much as a Speedmaster 145.022-76 from 1977. With Rolex, the tracking of serial numbers is a bit easier or better documented, so it didn't take very long to find one. But I didn't enjoy it. Actually, I couldn't even care less it was from 1977. It was a nice watch, but it didn't do anything special for me and sold it not much later. I also started collecting Speedmasters (again) around that time, something I had not been actively doing anymore.
I made sure I had some notifications on websites like Chrono24 in place, so whenever something '1977' in combination with 'Speedmaster' would be offered for sale, I'd get an email. And I did get emails, but always on Mark IV, LCD or other variations. Then, in 2014, I purchased another Rolex from 1977, this time a GMT-Master reference 1675. This was already closer to the heart, as it also had a prominent place in the (Apollo) space history. As such, I love the 1675 and it wasn't my first (had a 1971 model before). But the hunger for a Speedmaster 145.022-76 couldn't be stilled. As my (still modest) collection of Speedmasters grew, the need for a birth year reference also increased. But nothing happened.
A Special E-Mail
Then, one day in March 2018, I received an e-mail from one of our readers with a contribution on a Speedmaster that he acquired around 2011. Although we've already published that story, here's a recap:
The person who wrote to me was in a meeting one day with a co-worker. This co-worker told him that his uncle, who was the owner of a jewelry store, had passed away and that they were sell everything inside and rent the space to someone else. Most of the watches and stock were sold back to the distributors and brands, as the relationship with them had always been good. However, there was also a watch that they found in the owner's private office that wasn't sold back. The writer of the e-mail was invited by his co-worker to have a look at this watch and so he did.
A showroom model
A few days later, he found himself in a completely empty former jewelry shop. A former salesperson of the shop also accompanied them, and he showed a little square black box with "Omega" printed on top. Inside, there was a pristine looking Speedmaster Professional Moonwatch, with all extras still there, including the tag with the serial number, reference number, and caliber number. And three little booklets. A warranty booklet (unstamped, as it was never sold), an instruction manual for the chronograph, and a service booklet.
This Speedmaster 145.022-76 was just never sold and always had been kept apart.
Even the red dot was still there on the case back. That proved that this watch had not been opened since. The former salesperson explained that they had been using this watch in the late 1970s and early 1980s as a demonstration piece for potential customers. A showroom model. In those years, the mechanical Speedmaster wasn't very popular there and they mostly sold quartz watches. When they sold a mechanical watch, it was at least one with a self-winding movement. This Speedmaster 145.022-76 was just never sold and always had been kept apart.
A virtually unworn +30-year-old watch
Although he did not know the production year, he decided to buy it anyway and have a nice dead stock Speedmaster. That is already a grail to many Speedmaster enthusiasts. To find a virtually unworn +30-year-old watch takes some doing. He brought it to his watchmaker, to have it checked. The gasket (o-ring) had become sticky, so that has been replaced by the watchmaker.
The caliber 861 copper colored movement itself looked brand new…
The caliber 861 copper colored movement itself looked brand new, and the number inside the case back was 145.022-76. On the movement, they also noticed the serial number (matching the number on the original tag). Being a 39.9million serial number, it dated back to 1977 according to the charts online. But as I wrote before, these can be a bit off.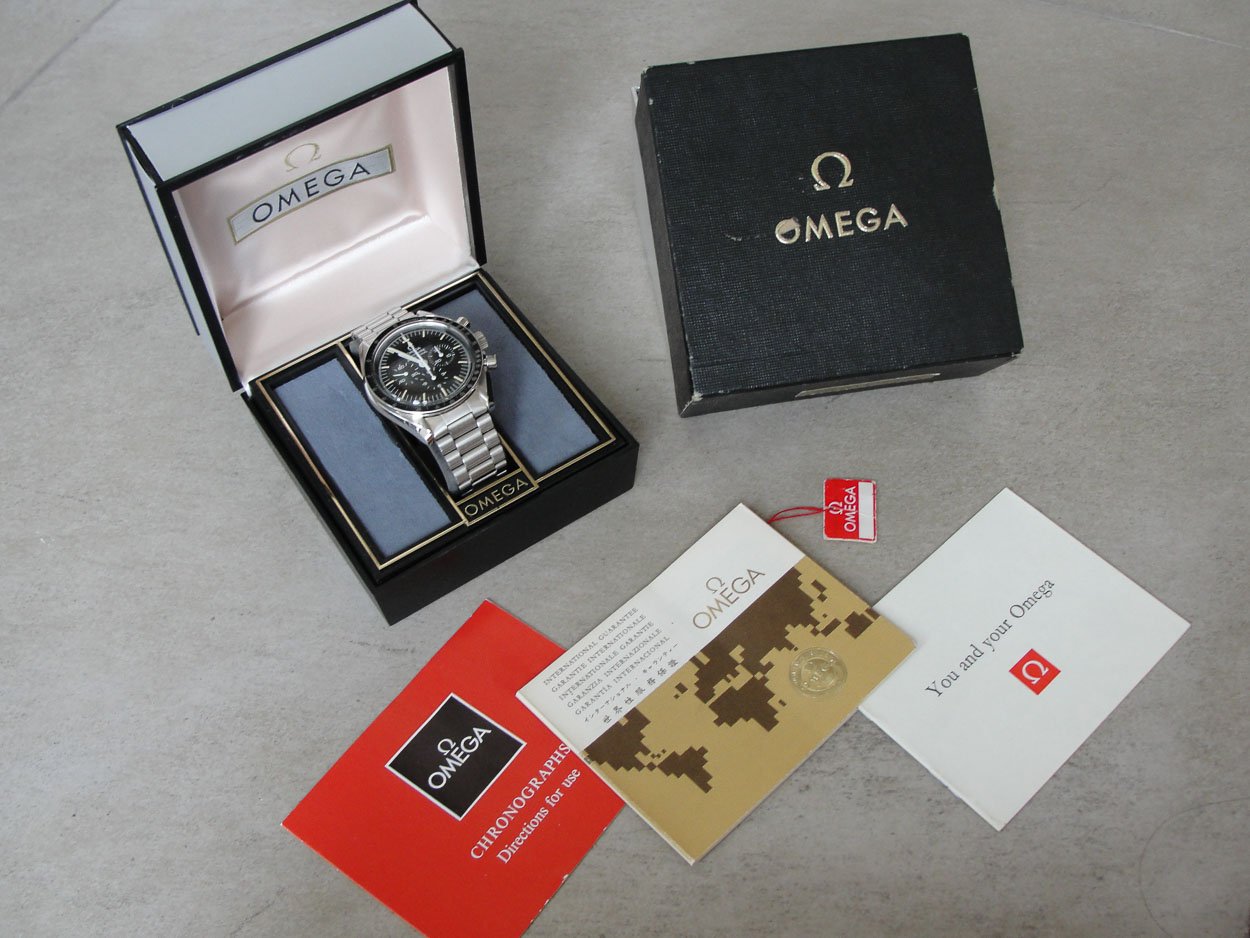 Image from our reader
Speedmaster 145.022-76
Now, the owner who mailed me the above story wrote to me that he did not want to wear the Omega Speedmaster 145.022-76. As it was now a +40-year-old watch, that just sat in its box being pretty, I asked him if he would be willing to part with it. He let me know that it was not for sale, which I respected. I did make him an offer though, a trade, and he was free to get back to me whenever he wanted, or not. A few months later, I received again an email from him that he had given it a thought and he was ready for the trade. So we did.
It took a while, as we are not exactly located near each other, and in fact, he will receive his watch from me, very shortly now. I was lucky enough to receive his watch in early 2019. On a (Speedy) Tuesday! In the end, it was quite a hassle, as you can imagine I don't want to see something like this (or the watch I traded it against) gets lost in the shipping process. So, with the help of some good friends (thanks Ben and Silene), I was able to pick up the watch recently.
Colombia 1978
Now, according to the archives, the production date isn't available. This means I am still in the dark about the exact year of this Speedmaster 145.022-76. The serial is too high to be a 1976 watch, and according to the Omega archives, it has been delivered to Colombia in 1978. According to the brilliant work of the, I Love My Speedmaster website, which has a database based on submitted extracts from collectors, the production of my 145.022-76 dates back to July 1977.
To Wear Or Not To Wear
Although I said to myself, I will just wear this Speedmaster 145.022-76, I have to admit that I have not been wearing this watch much since I received it. Do I really want to wear it? I did not purchase this Speedmaster as an investment or to resell, on the contrary. What is the point of having a Speedmaster that you don't wear anyway if you didn't buy it as an investment in the first place? None. So I wear it occasionally, but with more care than I normally have for my watches.
it has been in pristine condition for over 40 years, I just need to take care it stays beautiful.
The Speedmaster 145.022-76 doesn't have a single scratch or 'spot', including the all original 1171/633 bracelet. It is simply new. It can't be that after all these years, I finally found what I was after and I am not putting it on my wrist. Right? I wear my gold Speedmaster Moonshine almost on a daily base, and it has a number of scratches and I couldn't care less. Somehow, it is different from this 1977 beauty, it has been in pristine condition for over 40 years, I just need to take care it stays beautiful.
I hope my daughter will do the same
Another thing I considered, is keeping this watch for my daughter to have when she has a certain age. But as I wrote at the start of this article "the best thing is when your parents bought one in your birth year and looked after it for you." This watch isn't from her birth. It is from mine. And so I bought a watch in her year of birth. She can have that when she is older, instead.
I think that is also more meaningful. My father is from 1950 for example, and I don't need a watch from 1950 specifically, I would love to inherit the watch that he wore the most or was most proud of, when the time is there (God forbid). I hope my daughter will do the same, pick the watch she associates me with the most. I don't think it will be this Speedmaster 145.022-76, in all honesty.
On A Strap
During this write up, I actually decided what to do. I am not particularly a fan of the 1171 bracelet but do want to keep it in good shape. What I will do is remove the bracelet from the Speedmaster 145.022-76 and keep it safe in the original box. Instead, I will select a nice leather strap to wear with this special Moonwatch. The risk of damaging the case by daily wear is one I am willing to take. I am careful with my watches anyway. A bit of wear on a watch isn't bad in the end. It will show that this watch had a slow start, but is being loved.
Above, a picture of the watch I took after writing this article. On a brown strap that I will use for it from now on (strap via StrapsByFleur).
If you want to request an extract from the archives from Omega, keep your serial number ready and visit their dedicated page for this.
Using only the finest materials Partner Content March 30, 2020 Brand of the Month
Japanese watchmaking at its best Partner Content March 01, 2020
Speedy Tuesday
The differences between the original Moonwatch and the Reduced by Robert-Jan Broer March 24, 2020
With a stable of Speedmasters and speed machines, Nick Boon enjoys life in the fast lane by Robert-Jan Broer March 17, 2020
The first space walk of a NASA astronaut was performed by astronaut Ed White by Robert-Jan Broer March 10, 2020
Popular
Historical timeline of the world's most desired GMT watch by Robert-Jan Broer June 15, 2019
by Michael Stockton September 20, 2018
by Robert-Jan Broer August 16, 2018
About the author
Robert-Jan Broer
Ever since he was a young child, Robert-Jan was drawn to watches, even though it were digital Casio and quartz Swatch models at the time. In the mid-1990s, his interest increased when he started to read about mechanical watches in… read more
Watch reviews in your inbox.
Even when it's not Speedy Tuesday. This iframe contains the logic required to handle Ajax powered Gravity Forms.Original Article